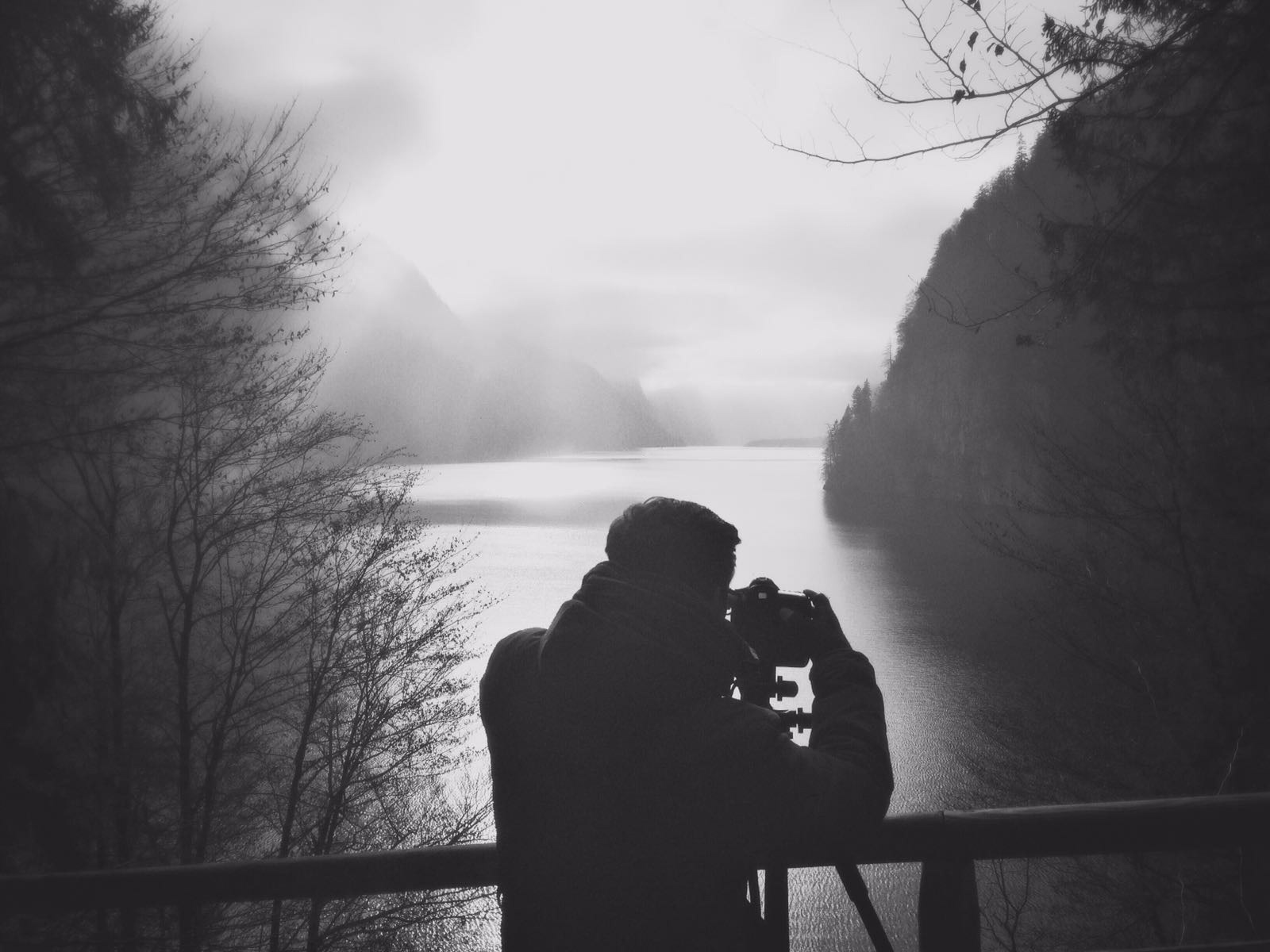 VITA IN DEUTSCH
Prix de la Photographie in Paris. International Photography Awards in Los Angeles. Black & White Spider Awards in London: Für seine fotografischen Arbeiten erhält der Fotograf Stefan Kuhn seit Jahren wichtige internationale Preise und große Anerkennung in der Branche.

Kuhn, Jahrgang 1977, studierte an der Foto-Design-Schule in Pforzheim schloss 2003 mit Auszeichnung ab. Daraufhin assistierte er bei ambitionierten Fotoprojekten und wichtigen Kampagnen für nationale und internationale Großkunden wie Audi, BMW, Credit Suisse, Deutsche Telekom, Lufthansa, Porsche, Siemens oder Volkswagen.

Die Zusammenarbeit mit Fotografen aus verschiedenen Bereichen, brachte ihn dabei in seiner eigenen Entwicklung noch einmal weiter voran.

Er ließ sich vom ganz unterschiedlichen Herangehen der Kollegen inspirieren und

entwickelte so über die Jahre seine eigene charakteristische fotografische Handschrift. 

Kuhn arbeitet für zahlreiche Kunden und Werbeagenturen aus dem In- und Ausland. Seit 2009 wird sein Bildarchiv über die New Yorker Bildagentur Gallerystock vermarktet.



People- und Sportfotografie, sowie Landschaften und Reportagen. Kuhn arbeitet sowohl kommerziell, als auch redaktionell. Immer wieder verfolgt er aber auch künstlerische Projekte, wie mit seiner Langzeitserie "Das Projekt Banknoten", oder der preisgekrönten Studie "Verborgene Botschaften". 

Dank seiner langjährigen Erfahrung und s

einem feinen Gespür für Lichtstimmungen, gelingt es Kuhn mit großer Leidenschaft immer wieder aufs Neue, emotionale Bilder zu erschaffen.
VITA IN ENGLISH
Prix de la Photographie in Paris. Photography Masters Cup in Los Angeles. Black & White Spider Awards in London: For his work, the photographer Stefan Kuhn receives for ages important international awards and wide recognition throughout the industry.

Kuhn, born 1977, studied at the photo-design school in Pforzheim/Germany and graduated with honors in 2003. Kuhn then assisted at ambitious photo projects and grand campaigns for major national and international clients such as Audi, BMW, Credit Suisse, Deutsche Telekom, Lufthansa, Porsche, Siemens and Volkswagen.

The collaboration with photographers from different areas, brought him with his own innovative process even further. He was inspired by his colleagues diversity and varying approaches and thus developed over the years his own distinctive photographic signature.
Kuhn works for numerous customers and advertising agencies in germany and abroad. Since 2009, his stock image archive has been marketed by the New York based agency gallerystock.
People, sports, landscapes and reports. Kuhn works both commercial and editorial.

Again and again, he also pursues
artistic projects, such as the long-time series "the projekt banknotes" or his award-winning "hidden messages".

Thanks to the many years of experience and his fine sense for lighting, 

again and again Kuhn succeeds with great passion to create emotional images.
KUNDEN   ///  CLIENTS
ACCOR HOTELS
ANDRITZ HYDRO
ARD
ARPER
BANK VONTOBEL AG
BLOOMBERG BUSINESSWEEK
BRITISH AIRWAYS
DEUTSCHE ZEPPELIN REEDEREI
DIVIS
ENERGETICS
EVONIK
FRITZ HANSEN
HAUSER KÜHLMÖBEL
HERMES LOGISTIK GRUPPE
HOTEL BERGKRISTALL
HSBC BANK
INTERSPORT
LANSERHOF HOTELS
MERCURE HOTELS
NIKE
NOVOTEL HOTELS
RAVENSBURGER AG
ROLAND BERGER HOLDING
SELECTCAMP NL
SOLON SE
THONET
UBS SWITZERLAND AG
UMDASCH AG
YAHOO
ZDF
AGENTUREN - PRESSE   ///   AGENCIES - PRESS



ABACAPRESS
AXEL SPRINGER VERLAG
CONDE NAST VERLAG
CRAFFT KOMMUNIKATION
DER SPIEGEL
DISCODOENER
DIE ZEIT
FAZ
GRUNER + JAHR
GRUPPEDREI
INK PUBLISHING LTD.
KISKA DESIGN
MEIRÈ&MEIRÈ
OGILVY & MATHER
PANAMA WERBEAGENTUR
RODALE-MOTOR PRESSE
SNAPPER MEDIA
SÜDDEUTSCHE ZEITUNG
SPIEGEL VERLAG
VANITY FAIR
VOGUE
ZEIT VERLAG
ZURGAMS
AUSZEICHNUNGEN   ///   AWARDS
BLACK & WHITE SPIDER AWARDS  |  NOMINEE  |  Los Angeles, USA
INTERNATIONAL PHOTOGRAPHY AWARDS (IPA)  |  HONORABLE MENTION |  Los Angeles, USA
 BLACK & WHITE SPIDER AWARDS  |  NOMINEE  |  Los Angeles, USA
PRIX DE LA PHOTOGRAPHIE (PX3)  |  HONORABLE MENTION  |  Paris, France
GOSEE AWARDS  |  FINALIST  |  Berlin, Germany
INTERNATIONAL PHOTOGRAPHY AWARDS (IPA)  |  HONORABLE MENTION |  Los Angeles, USA
INTERNATIONAL COLOR AWARDS  |  3X NOMINEE  |  Los Angeles, USA
BLACK & WHITE SPIDER AWARDS  |  NOMINEE  |  Los Angeles, USA
PRIX DE LA PHOTOGRAPHIE (PX3)  |  WINNER People´s Choice Award  |  Paris, France
PRIX DE LA PHOTOGRAPHIE (PX3)  |  SILVER in Advertising  |  Paris, France
VATTENFALL FOTOPREIS  |  SHORTLIST  |  Berlin, Germany
INTERNATIONAL PHOTOGRAPHY AWARDS (IPA)  |  HONORABLE MENTION |  Los Angeles, USA
INTERNATIONAL COLOR AWARDS  |  NOMINEE  |  Los Angeles, USA
2008
PRIX DE LA PHOTOGRAPHIE (PX3)  |  FIRST PRIZE  |  Paris, France
PRIX DE LA PHOTOGRAPHIE (PX3)  |  HONORABLE MENTION  |  Paris, France
HASSELBLAD MASTERS  |  SEMI-FINALIST  |  Goteborg, Sweden
AUSSTELLUNGEN   ///   EXHIBITIONS
2017
ORT UND POESIE  |  GROUP EXHIBITION  |  Stuttgart, Germany
 Haus der Wirtschaft from March 15th - 31th 2017
2015
DAS PROJEKT BANKNOTEN  |  SOLO EXHIBITION  |  Ravensburg, Germany
 Gallery of the Sparkasse in Ravensburg from January 19th - March 6th 2015
2014
GOSEE AWARDS  |  GROUP EXHIBITION  |  Berlin, Germany
2013
PX3 WINNERS  |  GROUP EXHIBITION  |  Arles, France
International Photography Festival in Arles, Rencontres d'Arles 2013
PX3 PREMIER  |  GROUP EXHIBITION (Special Selection)  |  Paris, France
The winning photographs from the 
PX3 2013 annual competition at Espace Dupon in Paris
2012
VATTENFALL FOTOPREIS 2011  |  GROUP EXHIBITION  |  Berlin, Germany
The project "Beach Life" was shown from November 14, 2012 at the
Vattenfall headquarters in Berlin
2009
RED DOT CHARITY  |  GROUP EXHIBITION  |  London, UK
Four images were part of a charity group exhibtion and auction at the AOP Gallery in London
2008
FINISHING TOUCH  |  GROUP EXHIBITION  |  London, UK
Four images were part of a group exhibtion at the AOP Gallery in London
2007
AOP PORTFOLIO  |  GROUP EXHIBITION  |  London, UK
Seven images were part of the self promotion group exhibition at the AOP Gallery in London